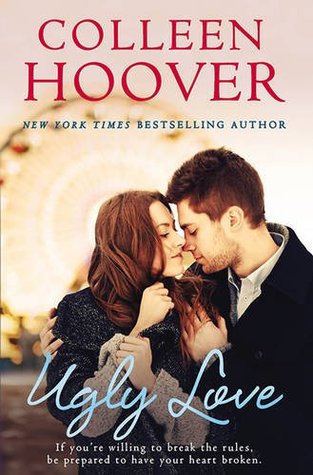 Title: Ugly Love
Author: Colleen Hoover
Genre: Adult, Fiction, Romance, Contemporary
Format: Paperback
'Love isn't always pretty. Sometimes you spend all your time hoping it'll eventually be something different. Something better. Then, before you know it, you're back to square one, and you lost your heart somewhere along the way.'
INFO | Goodreads
BUY | The Book Depository
---
(Taken from Goodreads)
When Tate Collins finds airline pilot Miles Archer passed out in front of her apartment door, it is definitely not love at first sight. In fact, they wouldn't even consider themselves friends. But what they do have is an undeniable mutual attraction.
He doesn't want love and she doesn't have time for a relationship, but their chemistry cannot be ignored. Once their desires are out in the open, they realise they have the perfect set-up, as long as Tate can stick to two rules – never ask about the past and don't expect a future.
Tate convinces herslelf she's ok with it, but soon realises that it's harder than she thought. Will she be able to say no to her sexy pilot when he lives just next door?
I'll start by admitting that I didn't read all of the book properly; I read to around page 100 and skimmed the rest. I can be quite fickle when it comes to romance novels. I have to be really convinced by the match, and if I am not then the book needs to offer me a good reason why. On my list of unconvincing, eye-rolling matches there is also Christian Grey and Anastasia Steele, and Edward Cullen and Bella Swan.
In Ugly Love, the obvious unconvincing match is Miles and Tate (though she does have a great name).  She is almost immediately rendered to putty-in-his-hands, without him doing hardly anything at all. Just a lot of being rude, intense and quiet. Twilight alarm bells ringing – what is it about those traits which make girls in books, and so many of their fans, swoon?  Anyway, the book follows the couple as they begin a no-strings-attached sexual relationship, leading to a bumpy road of broken hearts and tears.
It's the beautiful moments like this that make up for the ugly love.
What I did like about the book is Miles' emotional journey as he works through the pains of his past, and I did actually tear up when I read the car accident scene. There is the essence of a good book within those pages, but I just couldn't connect to the characters at all, and the central, 'falling falling falling down' style of most of Miles' narrative was so distracting.
I can only give the book 1.5 stars, as I found it difficult to read, but I did enjoy bits of the story as I skimmed through to the end.  I'm sure fans of contemporary romance would love this book, but personally I just didn't get much out of it.
Star Rating: ☆½ (1.5/5)