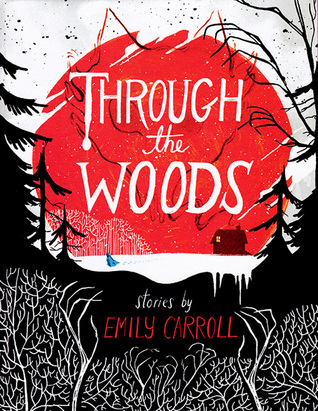 Title: Through The Woods
Author: Emily Carroll
Genre: Graphic Novel, Horror, Short Stories
Format: Hardback
'It came from the woods. Most strange things do.'
INFO | Goodreads
BUY | The Book Depository
---
Through The Woods is divided into five standalone horror stories, all told through the most beautiful and haunting illustrations.
Emily Carroll is a very skilled artist and storyteller and had me on the edge of my seat for the entirety of the book. I don't know what the book equivalent of screaming at/hiding from a horror movie is, but my frightened tugging at my boyfriend's sleeve and repetition of 'eep, that's freaky' pretty much summed up my experience.
My favourite of the short stories has to be A Lady's Hands Are Cold, which I found particularly chilling. The stories are always left open on a cliffhanger, meaning it is up to the reader to finish them. The simplicity of the art has a similar effect, and leaving so much to the imagination means it is easy to fill in the spaces with one's own fears.
This was an easy five star read, and I highly recommend it. Best read at night with dim lighting, maybe even a flickering candle…
Star Rating: ★★★★★ (5/5)
For a taste of Emily Carroll's style, there are loads of comics and illustrations to view for free on her website.