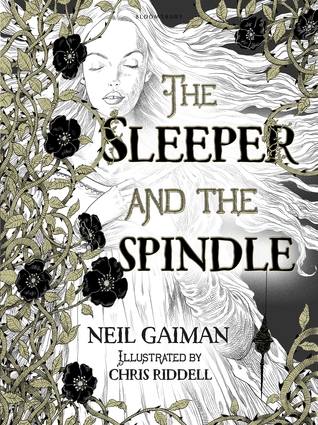 Title: The Sleeper and the Spindle
Author: Neil Gaiman and Chris Riddell (illustrator)
Genre: Fiction, Retelling, Fantasy
"There are choices," she thought, when she had sat long enough. "There are always choices."
INFO | Goodreads
BUY | The Book Depository
---
The Sleeper and the Spindle takes aspects of Snow White and Sleeping Beauty and weaves them into a new, dark story in this twisted retelling.
Immediately, I was struck by how beautiful and unusual this book was – not quite a graphic novel, but not quite a typical storybook either; I think the novelty alone of reading it deserves some merit.
The illustrations, done by Children's Laureate Chris Riddell, are stunning – in fact, I spent more of my time admiring the fine details than on the story itself.  I just love how you can see every pen stroke – everything has been put together with so much thought.
Sadly, the story itself didn't quite live up to expectations, though it was still very good.  I felt the story jumped a bit randomly from scene to scene in the beginning, though this does smooth out as the book goes on.  However, the interweaving of the two fairy stories is very cleverly done, and I loved the way that some of the traditional story conventions were challenged, showing that Queens are just as capable as Handsome Princes at saving the day.
Star Rating: ☆☆☆☆½ (4.5/5)
Happy reading!