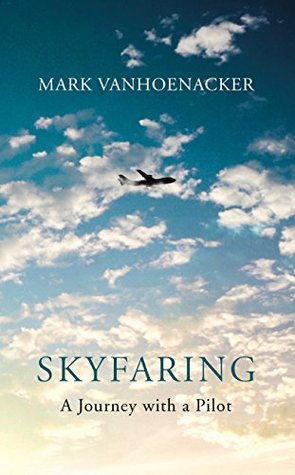 Title: Skyfaring: A Journey with a Pilot
Author: Mark Vanhoenacker
Genre: Non-Fiction, Memoir, Travel
Publication Date: April 2015
I try hard to remember that this is an unusual experience of the world – to have stood on the earth there, then there on it and there; then suddenly to find myself alone on an ordinary afternoon, quietly washing it from my shoes.
INFO | Goodreads
BUY | The Book Depository
---
Skyfaring is a memoir of author Mark Vanhoenacker's experiences of aviation, from his interest in flight as a child to his journeys through the skies as a qualified pilot.  I must admit that the book was a complete surprise for me.  I suppose I started out with some vague notion that it would be a very to-the-point and factual book for the most part, full of complicated terminology and technical descriptions, but I was quite wrong.
Vanhoenacker is an exceptional writer, and his resume is no less impressive – leaving a career as a management consultant, he trained to become a pilot, and now works as a Senior First Officer for British Airways.  He is also a columnist, and his writing ability is clear.  Skyfaring is nothing less than a work of poetry, and he manages to make flying sound almost romantic; I actually forgot at times that I was reading non-fiction.
Paired with this freedom is the opportunity to come to know the cities of the world well, and to see so much of the land, water and air that lie between them.
I have never dwelt too much on flying – I've always tended to have my feet rooted firmly on the ground, I think!  But Skyfaring made me wonder why I never thought about it more.  In particular, I thought the paragraphs about restricted airspace were fascinating, especially the Tower of Silence near Mumbai.  I never considered that the skies would also have their own rules, codes and boundaries.
Of course, nothing is perfect.  My one real criticism of the book is that I wish that each topic was elaborated on just a little bit more – Vanhoenacker was quick to flutter between experiences, and actually if you were to strip away a lot of the descriptive, fancy language, the actual real substance of the book was half the number of pages.  He never seemed to stay long enough on a story for me to get a true sense of the experience.  This also extended to the paragraphs about restricted airspace which I was talking about above – I would have loved to have read more about it, but the topic moved swiftly on.  What is there though is exceptional, and it was still very enjoyable to read.
On the whole, Skyfaring was an absolute pleasure to read – educational, fun, poetic, it is an impressive piece of non-fiction.  I wouldn't think twice about picking up another of Mark Vanhoenacker's books – whether it be about flying, or anything else, I'm sure it would fill any reader with as much wonder as Skyfaring did for me.
Star Rating: ★★★★½ (4.5/5)