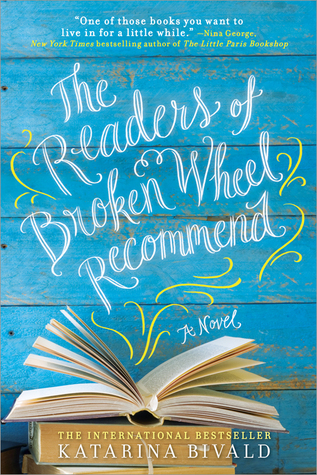 TITLE: The Readers of Broken Wheel Recommend
AUTHOR: Katarina Bivald
GENRE: Adult, Fiction, Chick Lit
It is a truth universally acknowledged that a Swedish tourist in Iowa must be in want of a man.
INFO | Goodreads
BUY | The Book Depository
---
Travelling to a small American town in Iowa to meet her pen pal, Swedish bookworm Sara is surprised to learn that Amy has recently passed away.  To honour Amy's friendship with this shy tourist, the people of Broken Wheel decide to take Sara under their wing, hoping to keep her around for as long as possible – even if that means trying to set her up with one of the locals.  Set on repaying the town, Sara opens up a bookshop, determined to get the town reading…
I love that this was a book about books – that element of it was really fun.  There were references to dozens of books and authors I love, and Sara's passion and enthusiasm for reading was so infectious.  Other than that, Sara's personality fell a little flat for me.  I would also have liked to have heard more about Sara's backstory too.  It felt like there was the potential to make her really interesting – for example, she is from Sweden (as is the author) and it might have been fun to learn a little of her culture or to have seen even a few words of Swedish.
Though Sara was a pretty plain protagonist, this did allow for the book to revolve around the town rather than one person.  I thought the locals of Broken Wheel had tons of personality – I loved George, a recovering alcoholic with a heart of gold, and Grace, the tough-as-nails bar owner, and I can understand why Sara didn't want to leave.
The plot and ending were painfully obvious, but that does seem to be the case with most chick lits I've read – it is a safe read in that respect, and that isn't necessarily a criticism.  My biggest problem however was the chemistry between Sara and Tom.  I just didn't feel it at all.  Even scenes of intimacy seemed kind of awkward… I don't know, I've read reviews where people really enjoyed their chemistry, but they seemed like a real unnatural, cringeworthy match to me.  Of course I still rooted for them, because I'm not a complete spoilsport!  Even so, in terms of relationships, I'd say I found the complications of Justin falling for an older woman – who, I won't say – far more engaging than the core relationship of this novel.
TL;DR: The main romance is questionable, but the people of Broken Wheel more than make up for it.  Sara will make you remember why you fell in love with reading.
Star Rating: ★★★¾ (3.75/5)