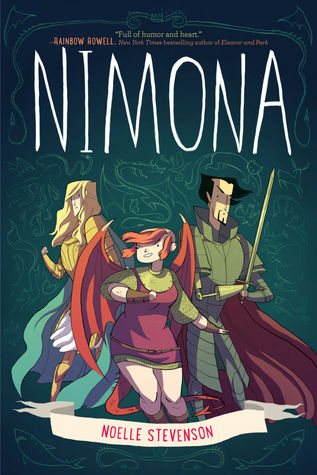 Title: Nimona
Author: Noelle Stevenson
Genre: Fiction, Graphic Novel, Fantasy, Young Adult
Format: Paperback
"Nimona!"
INFO | Goodreads
BUY| The Book Depository
---
Ballister Blackheart is a supervillain, and with his new shapeshifting sidekick Nimona in tow, they are an unstoppable force of evil, set on bringing down his rival Sir Ambrosius Goldenloin and the Institution. But with Nimona's mysterious magic powers getting out of control, and the Institution not the lawful good they seem to be, friendships – old and new – will be tested, as the true villains are revealed.
This book is nothing short of fantastic. Noelle Stevenson has managed to successfully write an extraordinary graphic novel with hilarious dialogue, gorgeous drawings and a gripping plot. It's a true talent to have readers laughing through some pages and to be on the edge of their seats through others!
The story features dragons and laboratories, perfectly combining elements of science fiction and fantasy into an engaging plot of some considerable length for the genre. I found this allowed the relationships between the characters to be thoroughly developed, and I particularly loved the history between Ballister and Ambrosius – their rivalry, and Ballister's inability to let go of the past were some of my favourite themes in the book.
But Nimona herself steals the show! She is witty, mischievous, and the deliverer of some of the greatest lines I've read this year. Her injection of humour in the story balances out the stern-faced Ballister perfectly.
I can't recommend it enough – go, get your hands on a copy!
Star Rating: ★★★★★ (5/5)