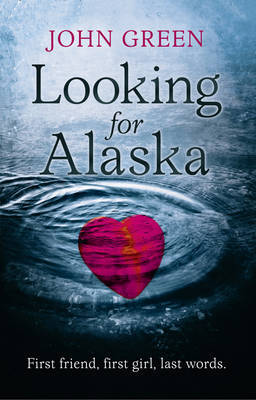 Title: Looking for Alaska
Author: John Green
Genre: Young Adult/Teen Fiction, Boarding School, Coming-of-Age
Format: Paperback
"The only way out of the labyrinth of suffering is to forgive."
INFO | Goodreads
BUY | The Book Depository
---
(Taken from Goodreads)
Miles "Pudge" Halter is done with his safe life at home. His whole life has been one big non-event, and his obsession with famous last words has only made him crave "the Great Perhaps" even more (Francois Rabelais, poet). He heads off to the sometimes crazy and anything-but-boring world of Culver Creek Boarding School, and his life becomes the opposite of safe. Because down the hall is Alaska Young. The gorgeous, clever, funny, sexy, self-destructive, screwed up, and utterly fascinating Alaska Young. She is an event unto herself. She pulls Pudge into her world, launches him into the Great Perhaps, and steals his heart.
After… Nothing is ever the same.
I couldn't finish this book.  I hate saying those words, because as a rule I try to finish every book I start, so there are no loose ends and I can write a fair review.
I gave the book my full attention to page 78 and then turned to skim reading – I gave up eventually somewhere in part two.  It's difficult because I really like and admire John Green – he's a genuine and intelligent man, and probably because of that I try too hard to like his work sometimes.  The Fault In Our Stars and Paper Towns were brilliant, but An Abundance of Katherines (which I did actually manage to finish) and now Looking for Alaska have both fallen short for me.
The book follows Miles – nicknamed Pudge – as he moves away to a boarding school to find his 'Great Perhaps', certain that he won't find it at home.  This is the only element of the book that I enjoyed; I liked that he was restless in his hometown, we can all relate to that.
I can't explain with certainty why I didn't like the book – perhaps the fact they were earlier works have something to do with it, as he was still developing his style – but in the case of Looking for Alaska, I found it difficult to relate to any of the characters, including Pudge/Miles.  Maybe this has something to do with my English school experience contrasting so much to Miles' American boarding school experience – the pranks/hazing are something that strongly doesn't interest me at all, and as a result just contributed to the irritation I felt towards the characters.  If I couldn't like them or relate to them, the setting or any of the events, I felt there was no point in continuing.  Also, I know Alaska had some issues, but I found her unbearable and I was completely unable to sympathise with her… I cannot for a moment understand Miles' attraction to her.
Even though I didn't finish the book myself, I would still recommend reading it.  It has received good reviews (averaging 4.16 on Goodreads as I type this), and from a little post-reading research, the rest of the story sounds quite interesting.  Also, a number of my friends have read it and rate it highly.  On this occasion though, it really wasn't for me.
Star Rating: ☆½ (1.5/5)
Has anyone else had the same experience I have with this book?  Should I have kept reading to the end?  Share your thoughts.