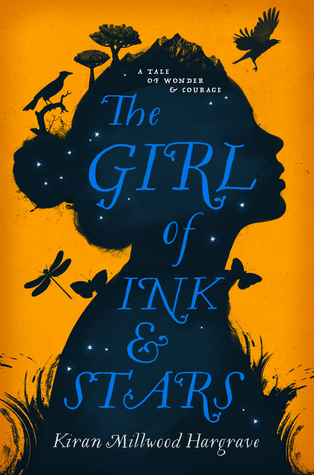 Title: The Girl of Ink and Stars
Author: Kiran Millwood Hargrave
Genre: Fiction, Teen, Fantasy, Adventure
"All things have a cycle…a habit of returning the way they came. Seasons, water, lives, perhaps even trees. You don't always need a map to find your path back."
INFO | Goodreads
BUY | The Book Depository | Amazon
---
When the tyrannical Governor's young daughter goes missing, Isabella feels it is her responsibility to bring her back.  Disguising herself, she manages to join the Governor's search party, navigating the group through the Forbidden Territories with her cartography skills passed down to her by her father.  But Lupe's disappearance isn't the only concern – a darkness is sweeping across the island, one that can be traced back a thousand years, to a fire demon who is finally stirring from his slumber.
Aesthetically, you couldn't ask for more from this book.  My edition had colour maps on the inside pages, and every single page of the story itself was illustrated with ink drawings.  It really brought home the cartography element, something that I thought was original and fascinating to read about.
I also enjoyed the mythological elements of the story, and liked that for much of the book it is unclear whether or not the stories Isabella has heard about as a child have any truth to them.  I would have liked to have seen even more of the fantasy elements come to life – the Tibicena were really exciting, but the scenes with Yote seemed quite brief despite such a build up.
There were a few things lacking for me, unfortunately.  Isabella's narration comes across as very young, and I'm not sure who would read this book and relate to her voice – I know thirteen year olds who would find her too immature.  Also, I wasn't really convinced by her friendship with Lupe.  Considering they were best friends, I didn't feel any real connection between them, and spent a lot of time arguing instead and being annoyed with one another.
I also felt for similar reasons like it wasn't clear whether anything was going on between Pablo and Isabella – I sensed that she viewed him as more than just a friend.  Was there a spark between them, or just a brother-sister thing?  I was quite disappointed in the end that nothing was developed either way.  However, I appreciate that the book is not a romance – it was nice to see qualities such as friendship, family and inner strength taking priority, and in that sense it carries a good message to younger readers.
Overall though, it was a nice little read.  I'd certainly read a sequel if ever there was one, but I disagree with Goodreads defining this as part of the 'Young Adult' genre, despite some themes of violence, and the ending which is quite dark.  So, I wouldn't know who exactly to recommend it to, but if you're a fan of myths and magic, there might be something for you in this short fantasy novel.
Star Rating: ☆☆☆ (3/5)