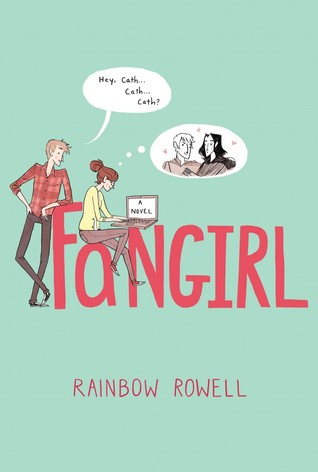 Title: Fangirl
Author: Rainbow Rowell
Genre: Fiction, Young Adult, Contemporary
Format: Paperback
'To really be a nerd, she'd decided, you had to prefer fictional worlds to the real one.'
INFO | Goodreads
BUY | The Book Depository
---
Being a bit of a geek, my initial thought, before I even opened the book was: 'I am going to love this'.  I wasn't exactly right, I didn't love it, but I did enjoy it, though not for the reasons I thought I would.
The story follows Cath, a socially awkward writer of fanfiction, who moves away from home to start college with her twin sister, Wren.  It is quite a difficult book to summarise, as there are a lot of issues tackled.  Cath must make peace with her social anxieties and adapt to being separated from her more outgoing twin and her mentally unstable father, not to mention pass her classes and attempt to befriend her outspoken and slightly terrifying room mate Reagan and Reagan's 'sort of' boyfriend.  I couldn't help but feel that Rowell was trying to squeeze too many personal battles into one book, and I don't know if any one of them was focused on enough to make me feel like there was any closure for Cath.  At the same time, I applaud Rainbow Rowell for showing how difficult those college years can be to juggle everything.
Sadly, I feel that the loaded promise of the 'Fangirl' title was ultimately a bit disappointing.  The fanfiction element relates to Cath's love of writing about the characters in the famous Simon Snow series (which I figured was meant to be a Harry Potter spoof).  However, because I'm not familiar with the Simon Snow series (seeing as it was created for the book), the excerpts from her writing meant little to me, and I found myself skimming over them, uninterested (though obviously I appreciate that she couldn't just steal Harry Potter due to copyright).
Nevertheless, I did enjoy Fangirl, and like with all of Rowell's books, I zoomed through most of the story with enthusiasm.  I did find Cath and eventually Wren quite relatable, even if Regean's character was too sour-faced to be believable.  I almost gave this book four stars, because I did have an hour's book hangover after reading, but I think I wanted to like this book more than I actually did.  I didn't feel the fanfiction theme was dealt with in a way that made it engaging for me as a reader, but I'm definitely curious to read books of a similar nature (maybe some comparisons would change my perspective).
Star Rating: ☆☆☆ (3.5/5)