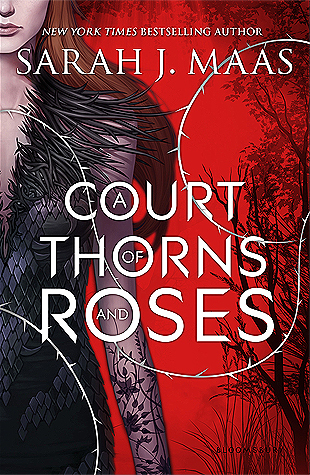 Title: A Court of Thorns and Roses
Author: Sarah J. Maas
Genre: Young Adult, Fantasy, Romance
First Published: May 2015
"We need hope, or else we cannot endure."
INFO | Goodreads
BUY | The Book Depository
---
(From Goodreads)
When nineteen-year-old huntress Feyre kills a wolf in the woods, a beast-like creature arrives to demand retribution for it. Dragged to a treacherous magical land she only knows about from legends, Feyre discovers that her captor is not an animal, but Tamlin—one of the lethal, immortal faeries who once ruled their world.
As she dwells on his estate, her feelings for Tamlin transform from icy hostility into a fiery passion that burns through every lie and warning she's been told about the beautiful, dangerous world of the Fae. But an ancient, wicked shadow grows over the faerie lands, and Feyre must find a way to stop it… or doom Tamlin—and his world—forever.
I seriously couldn't put this book down; it was addictive, and finally I can understand what all that hype was about.
"Don't feel bad for one moment about doing what brings you joy."
I love a twist, and despite vaguely knowing in advance that this was a retelling of Beauty and the Beast, I was still surprised when the truth surrounding the Spring Court came out in the second half of the book. I enjoyed the fact that the story reversed the overused stereotype of the young woman needing saving; Feyre taught herself to hunt and provided for her family, ultimately putting her own life on the line to save her friends and lover. It was sexy and incredibly contemporary for a fantasy novel based on such an old story.
However, the complexity of the curse, and the very specific conditions under which it could be broken were a bit unconvincing. It could have been simplified and it wouldn't have taken anything away from the story itself.
It was fairly clear that Tamlin or Lucien were going to be potential love interests for Feyre, and I was looking forward to studying their behaviour and trying to guess who would be Feyre's best match. Then, I re-read the blurb on a whim, and it just blurted out who it would be (see summary above!). Since it takes a good portion of the book for their relationship to develop, I was quite disappointed that such a crucial theme was revealed in this way. Still, Tamlin was very well written, and I loved how his power had parallels with the image of the 'beast' in the fairy tale.
"We need hope, or else we cannot endure."
Curiously, often the books I like the best are the ones I am most critical about; A Court of Thorns and Roses is a good example of this. I have to be honest and admit that it took me a little while to get into the story. I appreciate that new worlds need time to be explained, but I found the build-up to when Feyre crossed the wall a bit tedious in places.
I also found Feyre's chemistry with Rhysand, the High Lord of the Night Court, a bit unsettling, and hope their connection remains as just a friendship in the sequel; she sacrificed too much for Tamlin to just be swept away by someone else. Nevertheless, Rhysand was a very exciting and mysterious character with interesting powers, and I'm sure we'll be seeing him again in A Court of Mist and Fury.
Overall, the book as a whole was just brilliant – the characters are unique, created with a lot of care and depth, and I found the history of war and violence between the two races very interesting.
Star Rating: ★★★★½ (4.5/5)
Who else loved this book? Oh, and is it just me, or would Nesta and Lucien (who haven't even met yet!) make a great pairing? I know it's a good book when I start matchmaking…
Check out my review of A Court of Mist and Fury here!